Delivery Information
Shipping
Once you have placed your order on buysomethingonlinenow.com, we will send the package to our shipping center.
From here, we can make sure that your package is sent on time and we will add the tracking information to your order details so that you can follow
your package whenever and wherever you want.
How long does it take for my package to arrive if I use a specified Shipping?
This depends on which option you choose.

Packages that are sent with Standard Shipping take between 15 to 45 working days, whereas Premium shipments have an estimated delivery

time of 7 to 15 working days.
You can check the logistics information directly in your order details. The information will be updated within 5-7 days after seller has sent the package.
Shipping cost
All courier services and shipping fees are set up by suppliers. Currently suppliers can choose from the following express shipping options:
?UPS, FedEx, DHL, TNT, EMS, TOLL, e-EMS, ePacket, China Post Registered Air Mail, China Post Air Parcel, China Post Ordinary Small Packet Plus, HongKong Post Air Mail, HongKong Post Air Parcel, Singapore Post, Swiss Post, Sweden Post, Russian Air, Special Line-YW, DHL Global Mail and S.F. Express. Shipping fees are automatically calculated on the basis of weight, size and volume.
You can check shipping fee in the product details page as the below picture: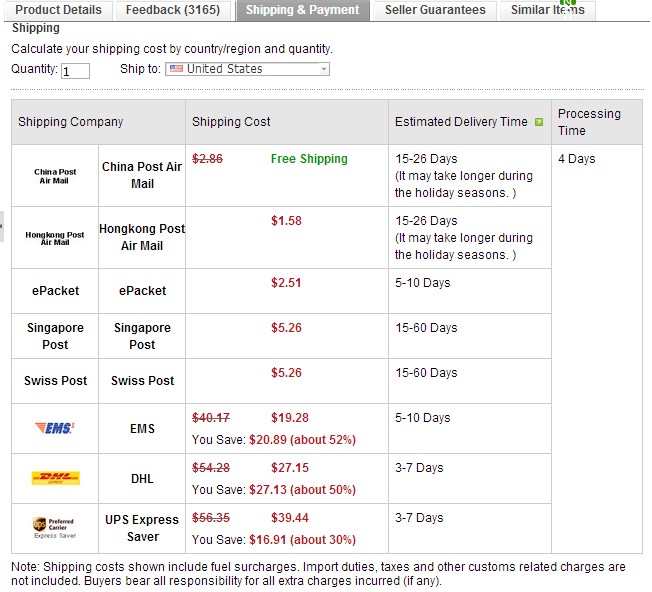 you feel the shipping fee is too high for an item you would like to order, you may contact us
N.B -All products listed on this site includes free shipping however, If the customer prefer express shipping should contact us on our email.